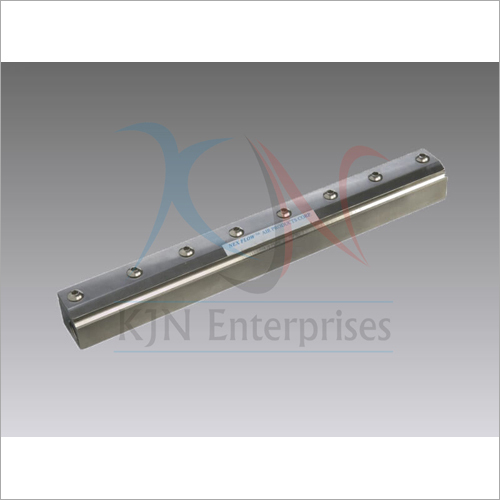 Standard Stainless Steel Air Knife
Price And Quantity
Piece/Pieces

6000.00 - 8000.00 INR
Product Description
PRODUCT OVERVIEW
Nex Flow™ Air Knife Systems use compressed air for industrial blow off and cooling applications. They are used vastly to replace rows of air nozzles or jets or drilled pipes to lower energy. The curtain-like airflow of the Air Knife is a quick and efficient way to dry, clean, and cool. Reduction of energy using air knives can be between 30% to 90% depending on the application, and can have noise reduction of 10 to 15 dBA or greater.
Air knives are linear air amplifiers that consist of a body with a plenum chamber, a cap, and either a machined gap in the body or a shim to keep an even gap along the length of the air knife. The goal is to give the highest force/air consumption ratio. In addition, you want to be able to get the greatest force over its length at the least possible input pressure as that also lowers compressed air cost. The Nex Flow™ X-Stream™ Air Blade™ Air Knives accomplishes that better than any products in the market. The X-Stream™ Air Blade™ Air Knives are 25% more efficient than the older design of the Standard Air Blade™ Air knives, and also have a much lower noise level.
SUPERIOR COMPARED TO OTHER COMPRESSED AIR OPERATED AIR KNIVES:
Nex Flow 's one of a kind chamber design in the X-Stream™ Air Blade™ Air Knives gives it one of the most efficient force/air consumption ratios compared to products in the market. When compared to our nearest competitor, the X-Stream™ Air Blade™ Air Knife gives the same force and has the same air consumption at 60 PSI line pressure as the competitor has at 80 PSI line pressure. since it requires 10% less energy to produce air at 60 PSI than at 80 PSI that makes the Nex Flow™ significantly more efficient because you can do the same job, at less pressure!
One of the greatest complaints with compressed air operated air knives is the use of plastic shims to maintain the gap, because that they tend to wear out fast. Nex Flow™ only uses stainless steel shims to give a guaranteed longer life.
All air knives are made to meet OSHA maximum dead-end pressure and noise requirements.
Stainless Steel Standard Air Blade™ Air Knives
Stainless steel for corrosive and high temperature environments. Stainless steel shim maintains gap integrity longer than plastic shims
Flexible mounting options and easy to fit in small spaces.
Energy reduction in compressed air use up to 90% and noise reductions of 10 dbA.
Maintenance free with output easily controlled, safe to use.